LABEL HISTORY

DraZe Records is a Budapest-based independent label focusing on Hungarian indie, alternative, underground music and releasing vinyls.

2011-12: First dreams of making vinyls. That time it was something like releasing classic metal stuff on vinyl which had only been available on cd or cassette only until that time.
2013-14: First talks with ex-band members. A couple of them were supportive, a couple were not interested in reviving memories of the "good-old-days".
2014-15: First successful negotiations. Mister X, a legendary melodic metal band from the early 90's says yes to releasing their first studio recording after having recorded it 25 years ago.
2015-16: Discovering excellent active bands and turning to current scene rock music. Releasing Turbo's fantastic 3rd studio album on vinyl.
2016-2017: Digging deeper into Hungary's indie, alternative rock scene. Contacting Dope Calypso to offer vinyl release of their successful 2nd album. Instead of releasing old stuff, they insisted on releasing a brand new album. That was a milestone in becoming a real record label. In fact, it is still the best-selling vinyl in label's history.
2018: Another cooperation with Dope Calypso. Their new album is released again by DraZe Records.
2018: Contacted by Abel Mihalik, drummer of a couple of legendary local bands who was just preparing his first solo album. DraZe records took part in this project.

Also in 2018 we introduced the "I still listen to records" logo. It was born from a small Christmas gift that turned to be more than just a simple badge.

2019: The first really busy year in the label's history. We workied on 4 vinyl releases that year. The live recording of a synth-punk band, Black Bartók, their first album, came out in April for that year's Record Store Days. Then David Fodor, a young bass player and singer (known from the short-lived band, The Nobody Elses) recorded his first solo album and prepared it for vinyl release. Simultaneously, we started discussions with one of the best Hungarian underground bands, Jazzékiel, who were preparing for the 10th anniversary of their legendary album entitled Holy Shit. As part of the celebration, we issued the record on vinyl as well. And finally, just before Christmas we had finalized the work on the fantastic surf-rock band, The Keeymen's first studio album and its vinyl version.

2020: 4 new vinyl releases were pressed in springtime. It was a very busy period, made even more difficult by the Covid-19 worldwide pandemic situation. But all 4 arrived in time, just as planned, except that Record Store Day has been postponed 2 times, so RSD exclusive vinyl waited long time to be released.
In historical order, first Mordái LP was followed by new Jazzékiel LP, and just within a month a fantastic and most wanted Platon Karataev's Atoms LP is out! And finally Sallai Laszlo's best of compilation was released as Record Store Day 2020 exclusive in August.
Still in 2020 Mordai LP was needed to repress after good sales. The second press has been made on red vinyl and an extra insert has been added.

2021: Again, springtime was a very busy period when 3 new vinyl releases were pressed and released.
In historical order, 3rd Dope Calypso vinyl called Tears To Freshwater was out in April. It was followed by the long-awaited new Middlemist Red LP called The Other Side Of Nowhere. And finally a compilation album from Hangmás (Rest In Parties 2007-2013) was released as Record Store Day 2021 exclusive in June.
Together with the new vinyls Platon Karataev's Atoms LP has been repressed thanks to the huge demand from the fans. Also, Mordai LP continued to be popular which made a 2nd repress necessary. This time it came out on nice white vinyl.

Flyer 2021 showing all of our vinyl releases.

<< >>
2022: No new record produced in this year. The only "new" release was a RSD exclusive version of DRAZE016 Jazzekiel: Szep napok LP. Black vinyl, pressed in 25 copies and supplied with an extra cover.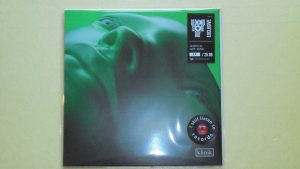 2023: New releases in the catalog. At the very beginning of the year the new album of The Keeymen was out. Standard version is available on white vinyl, but very limited RSD exclusive version has been also pressed on black vinyl.
Later, in May, the second album of Mordai band was completed and released. It got excellent feedback, for the fantastic music, as well as for the design of the LP.
2 other records are already in process.